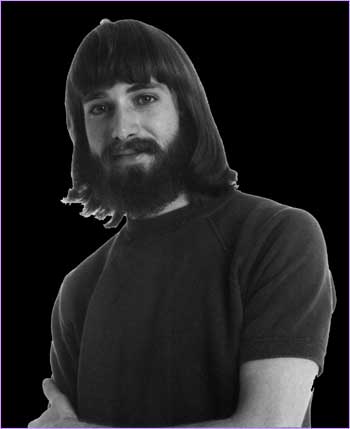 Jim Voigt (1946-2000)
The son of journalists George and Margorie Voigt, James Richard Voigt was born September 24, 1946 in Juneau, Alaska Territory, while his father was on assigment for the Los Angeles Daily News. His father then worked for the San Francisco Chronicle and eventually for Time Magazine, a job that in a ten year period took the family to many parts of the world: Mexico, New York, England, Germany, and China. The family returned to California in 1960, living in the Southern California mountain town of Big Bear.
While attending school in Big Bear, at age thirteen, Jim started playing drums. Moving to Highland Park, a Los Angeles suburb, he attended Franklin High School and at age fifteen played in his first rock and roll band called The Elementary School Band. The group went on to win the Hollywood Bowl Battle of the Bands. Later, Jim joined a group called The Interns. After graduation, Jim attended Cal. State L.A., and Cal Arts. During this time he met guitarist/singer Lance Fent, and the two played and recorded with various musicians and groups in the Los Angeles area, including Peter Wolfe, later of Moby Grape.
In June, 1966, Jim got a call from John Merrill, of the folk-rock group The Ashes, who was looking for a drummer for a new group he wanted to form along with fellow Ashes members lead singer Barbara "Sandi" Robison and bass player Alan Brackett. The three were also looking for a lead guitarist. Voigt and Fent seemed to fill the quest perfectly. Jim and Lance eventually joined up with the three to become The Peanut Butter Conspiracy, a name Jim created. In December, the group signed with Columbia Records and in early '67 released their first album and began touring. Jim's strong, fiery drumming helped give the folk influenced band a unique, powerful sound.
By this time Jim had had a short marriage and a daughter, but by 1967 he was partnered with Barbara. They, along with Barbara's son Scott, lived together in Silver Lake and the Mount Washington area until they ultimately parted ways in 1972. After The Peanut Butter Conspiracy's break up in 1969, Jim played with various rock and R&B groups in town and on the road until the mid seventies. Through the latter seventies and eighties, he worked at different jobs, continuing to play with bands around town. In the nineties Jim went back to school and became a paralegal. At the time of his death he was studying to become a lawyer, and he still played drums on weekends in Old Town Pasadena. Jim died of a heart attack on November 7, 2000 in South Pasadena. He is survived by his mother Marge, his daughter Kristin and granddaughter Cassandra.
According to PBC bassist Alan Brackett, Jim "was so intense with his focus on what he was into when he played that one would think he was really high on something, when in reality it was the color of his eyes and his focused precise energy that gave off this vibe. Jim had a machine that was very analog in that it was made of wood and you could adjust it so that cross-rhythems would play against each other. He loved to experiment with it, sliding the weights that gave the different tempos and beats so that they worked with and against each other, sounding like they were clashing at one moment and then coming together in a wonderful cross-rhythm for a few moments and then going their separate ways once again. This was the kind of experimentation that led to his ability to understand how an extended jam on a song could seem to fall apart at one moment and then come together in a way that could not be matched by just keeping to the rules. I think that he looked at life in this manner also and lived for the times that everything meshed perfectly and when that wasn't happening he couldn't deal with it as well as others perhaps, but he would hold his breath and wait for the next exceptional moment and live it to the brink.
"Jim had a knack for coming up with great names for bands like the ones mentioned, and I think that if he had put his mind to it could have writen some great lyrics. Nobody could ever say that Jim was not into what he was doing. He always had drumsticks in his hands everywhere he went and was playing them on whatever there was in front of him. I've known other musicians that slept with their guitars and claimed they had the curves of a woman, but I've never seen the dedication that Jim had with his sticks in any other musician. He had the right feel and emotion for the music he played and never caused problems to the other people he played with. He was loved by all of us that had the honor to know him and share with him the joy he felt playing music."
PBC home page